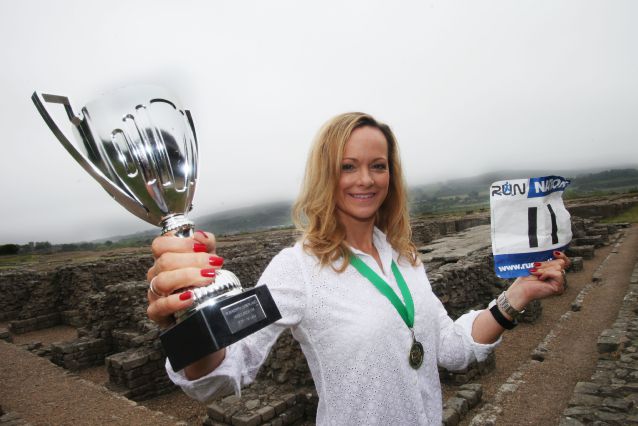 Insurance director scoops fastest time at inaugural Roman run
With runners from across the country taking part, top honours at the recent Run Northumberland Vindolanda 10k among the female runners went to Fiona Belgian, Operations Director at Gateshead insurance brokers NC Insurance.
Fiona, who is a member at Tynedale-based running organisation Jog on the Tyne made it her mission to enter a race each month of the year and, having had a few placings in the past year-and-a-half, the success at Vindolanda was the first time she brought away a trophy. The Corbridge resident put in a great performance as her time of 44 minutes and 28 seconds (44:28) saw her cross the line in 24th place overall.
Fiona, who joined Jog on the Tyne 18 months ago said: "I had to go ask somebody how I got on but I didn't see any girls at the finish, and the lady giving out the medals very casually said, 'you were first!'
"It was a huge shock to me, but I was really pleased and I suppose it was one of those days where you get lucky.
"It wasn't my fastest ever time, but it was the course was very hilly. On the final bit, you had a few people encouraging you by shouting there wasn't too far to go which was a big help as there was a brutal hill to get back into Vindolanda. I was thinking, 'that's not ideal after you have just ran 10k!'"
For further information about the Jog on the Tyne running club, visit www.jogonthetyne.co.uk