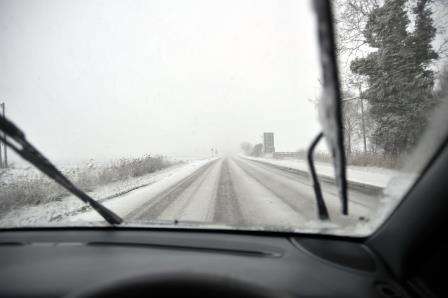 At the time of writing this post, snow is falling outside the office so we thought it was the perfect time to share these winter driving top tips.
Some motorists mistake winter tyres for those which are spiked or studded and more at home in colder countries which come to expect harsh winters as a seasonal norm. Others, almost half of all motorists in fact, are not even aware of them.
If you're one of the 47% of UK motorists who are completely uninformed about winter tyres, or just need some more information, read on.
What are winter tyres and how do they work?
Winter tyres have a number of features which make them better suited not just to treacherous surfaces, but lower temperatures. High-silica compounds keep them flexible in spite of cold weather, which makes them less prone to skidding in all weather when the temperature drops below 7oC.
Extra deep treads help disperse slush and surface water while tiny slits on the tread block provide better grip on tarmac, snow and ice crystals.
Winter tyres can be identified from their "normal" counterparts – summer tyres, which most motorists in the UK use – by a snowflake symbol on the side. Tyres with studs like football boots are not legal for use on UK roads.
Does a four-wheel drive do the same job?
While four-wheel drives do give better traction in winter weather, they don't provide much more extra help when attempting to break or corner in snow, ice and surface water.
Can I keep winter tyres on all year round?
Winter tyres will wear down quicker in higher temperatures for which they weren't designed, and could also negatively impact stopping distances and cornering in the same way summer tyres would in winter.
Are there tyres that work in both seasons?
All-season tyres are made from a compound that suits both cold and mild temperatures, while still featuring the slits known as sipes, synonymous with winter tyres, to give greater grip on icy surfaces and control when driving through slush and snow. The cold temperature capability of these tyres is limited to -5 oC %.
Switching to winter tyres is the ideal solution if you find temperatures dwindling around 7oC or less for the majority of the winter season. As UK winters can be as unpredictably mild and they can harsh, it can be a difficult one to judge.
Are winter tyres expensive?
Price varies depending on the manufacturer but winter tyres aren't cheap, especially as you'd need to buy four as fitting just two could cause you to skid or spin when braking or driving downhill. You might even want to consider purchasing extra wheels to accommodate them to make switching easier.
But given that you'll be using them for half the year, they take the pressure off your summer tyres which will last you longer as a result.
Snow socks are a cheaper alternative which fit around your tyres and can be fitted quickly and easily, but they aren't as effective and are only temporary.
Will fitting winter tyres affect my insurance?
Check with your insurer first but most won't charge you extra, as long as they're the right size.
Stay safe on (and off) the roads this winter. And if we can be of any assistance with your fleet insurance or business insurance, call us during office hours on 0800 046 1446.