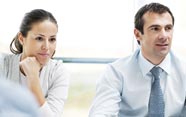 Business Insurance and the questions you need to ask when buying it
The truth is, few people enjoy buying business insurance and yet for many businesses, it is perhaps one of the most important purchases they will ever have to make. Certainly if you speak with the person in charge of sorting out buildings insurance whose premises has just burnt to the ground or whose employee has just been seriously injured at their premises then I guarantee having the right insurance is number one in their list.
So what exactly can you do and indeed ask of your insurance provider to make sure you get the advice, service, premiums and ultimately the cover, protection and peace of mind you need?
To begin with, it is important to remember that there are several ways in which business insurance can now be purchased. An online search, a flick through the yellow pages or a walk up your local high street might all be viable ways to find an insurance broker or company who can provide you with a quote.
The first question you need to ask though is which of these routes is best for me? And how can I make sure I choose the rightcommercial insurance provider?
There are actually a few ways to do this and here are just some of the questions you need to be asking to find the answer. You really need to decide what you actually want from your insurance broker as this will shape what questions you need to ask. For example:
Do you just want the cheapest premium? Or do you want a little more than that?
Would you like to deal with an advisor who understands the sector you work in and can talk you through the options available?
Or maybe a broker who is financially strong and you can trust to be there to help you when you suffer a loss?
Or perhaps an insurance broker who employ their own claims staff so if you do need to make a claim, you know who to speak with?
These are all perfectly valid questions you might want to ask and here are a few more you could be asking to establish how suitable the prospective insurance provider might be.
What experience do they have of providing insurance for companies in your trade or profession?
How long have they been established?
What insurance companies do they use and what cover and service levels can they provide that their competitors cannot?
Basically, what makes them different or better to the numerous other insurance providers out there?
In your sector I'm sure you offer something which your competitors cannot or do not and insurance is no different. People assume that when looking around for insurance that they will be faced with the same questions over and over again. However, for someone who is serious about getting the best possible advice, cover and premiums maybe it is time to start asking questions as well as answering them. If you do this then your chances of getting the cover and protection you and your business needs could dramatically improve. Give it a go and see what happens.