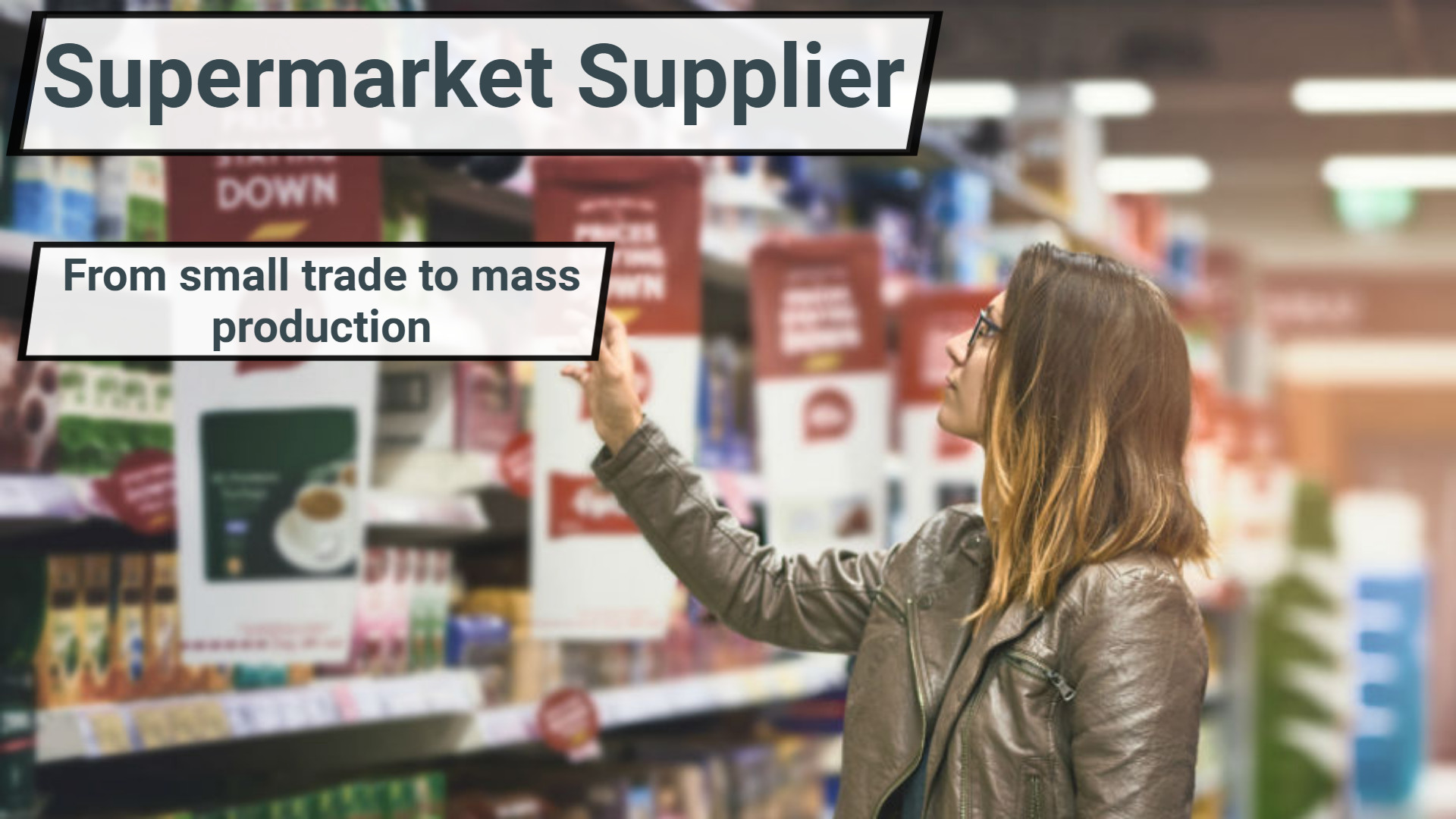 Supermarket supplier: From small trade to mass production
Think you have a product that could compete with global brands and local produce in supermarkets? You'll first need to think about where your product would fit in the larger scheme of things in your local supermarket. Would it be a budget or artisan option, and is it filling any sort of gap in the market? Do you have what it takes to become a supermarket supplier?
Getting started
Ensure that you establish your product on your own first. Keep a tight record of your finances and make sure you're honest about them in a pitch. If you fudge your figures, provide unreliable information or overestimate your profits going forward, this could be detrimental to your credibility when dealing with supermarkets.
Cost and profits
Working with supermarket chains can be difficult as they often want big orders at a low margin which means that SMEs often have to borrow large amounts of initial funds to meet the production requirements. A good mantra is to start as you mean to go on, so if you offer supermarkets a cut-price product, you generally won't be able to raise this down the line, so stick to your guns from the off.
Contracts, compliance and regulations
Think about whether acting as a supermarket supplier is right for you, as it will take away from the independence you've been used to whilst running your own business. You could find that as a supplier, your business will be subject to a number of workplace inspections and rigorous performance monitoring. Before you pitch your product, make sure you research the supermarket you're pitching to. You'll be required to keep in line with their rules for areas like delivery, quality control and health and safety.
Some supermarkets may have a reputation of treating suppliers unfairly and you could be subject to unrealistic contracts and late payments. Their margins may be kept purposefully low and if this is so, you'll need to ensure your product can be mass-produced at a price which reflects the margins in the sector. Otherwise, you could find it difficult to make a profit.
Consider this a two-way street
There is a large demand for artisan, local and small-label products in supermarkets with an online poll finding that 38% of shoppers actively seek these out whilst 51% rely on supermarkets to introduce them to such products. Due to this demand, you should always try to demonstrate your products as an SME but keep in mind the worth of your products. By doing so, you can ensure you won't be bullied by a pushy supermarket hoping to take advantage of your enterprise.
NC Insurance
If you're looking to become a supermarket supplier &  branch out to the wider market, but need to ensure your insurance covers business growth, get in touch and call NC Insurance on 0191 482 1219 or request a quote on our website.
For additional information on growing your small business, read our blog post: Buying vs. leasing equipment: Which is right for your business?