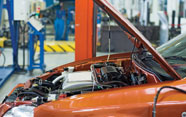 2017 Forecast for Motor Traders
Leading motor trade insurance brokers, NC Insurance, look towards 2017 and what motor traders can expect to see over the next 12 months in their motor trade forecast.
Various motor trade experts and industry research have identified several key trends that will affect your business both positively and negatively in 2017. To prepare your business, review this forecast of the 2017 trends predicted to impact the motor trade industry.
Strong used car market. A majority of dealerships (80 per cent) believe that the used car market will remain steady in 2017, while 43 per cent believe that there could be as much as a 10 per cent increase in the volume of used car sales.
Weakened new car market. The Society of Motor Manufacturers and Traders predicts that new car registrations will decline over the course of the next two years, with growth expected to decline by 5 per cent in 2017 and by 1.3 per cent in 2018.
Uncertainty about the nation's economic future. According to a recent industry survey, 63 per cent of dealerships are optimistic about their business prospects in 2017, but 43 per cent expect that a UK recession poses the greatest threat to their business.
Greater emphasis on establishing a robust digital presence. According to a separate industry survey, 49 per cent of car buyers expect a response to an online enquiry from a dealer within an hour, and one-third of those buyers would take their enquiry to a different dealership if they had not received a response within four hours.
Enhanced insurance benefits. As motor trade insurance specialists, we understand from speaking with our clients that they demand more than just a competitive premium. For this reason, our clients can expect to benefit from some new & exciting cover and service benefits in 2017 including:

No claim rebates – meaning that if you don't claim during the year, you get money back.
Protected no-claim discount – meaning that if you do need to claim, your bonus won't necessarily be reduced or lost.
Full theft cover.
Free access to a client portal giving you health & safety and risk management resources specific to the motor trade.
With Brexit, Trump and celebrity deaths whenever you saw or read the news, many people will be glad to see the back of 2016.
However, if you're planning on starting or growing your motor trade business in 2017 and want to see why companies are turning to NC Insurance, Get a Motor Trade Insurance Quote or call us during office hours on 0800 046 1446.