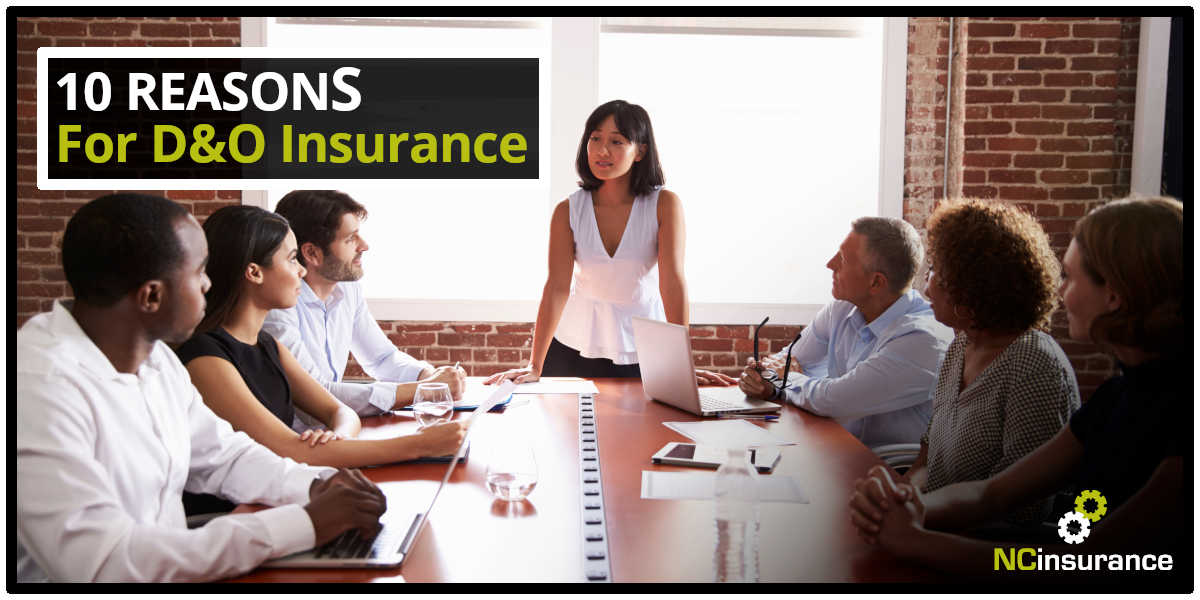 10 reasons why you may need Directors and Officers Insurance
Directors and officers insurance – also known as D&O insurance – covers the cost of compensation claims made against your business's directors and key managers (officers) for any alleged wrongful acts.
It may surprise you to know, that there are many circumstances in which Directors & Officers may be held liable for their actions, we explain some of these reasons in: 10 reasons why you may need Directors & Officers Insurance…
Do I Need D&O Insurance?
1. Director Disqualification
Directors may be disqualified from taking the role of any organisations director in the future. This occurs based on their actions within their current role.
These disqualification orders range from 2 to 15 years, meaning you could be made to wait an extremely substantial amount of time before being allowed to return to a position as director. Even after the ban has been lifted, the stigma remains: credit history and personal reputation may be permanently damaged.
D&O insurance cover is designed to pay for any legal defence costs incurred as a result of contesting the disqualification, in addition, we understand the legal processes, and have a highly experienced and tenacious claims team.
We'll be in your corner, should a disaster occur!

2. Investigations
We all know how easy it is nowadays to complain about a company; "My order was wrong", "The Service was terrible". This is replicated almost universally across all job roles.
This new found ease of complaining brings with it an increased risk of company investigations aimed at resolving the complaint. Even if the complaint is entirely unfounded, you may still find yourself under investigation, and worse still, the financial risk of an investigation can be extremely considerable.
With a directors & officers insurance policy, the cost of investigations will be covered.

3. Personal Liability Mistakes can be very costly.
D&O Insurance is not designed to cover acts considered dishonest or fraudulent, instead these are covered under Fidelity/Fraud Insurance.
There is however a caveat to this rule, if directors are found to be personally liable, without deliberately being dishonest, fraudulent or without failing to take care, then any associated defence or award costs would be covered under your D&O Insurance.

4. Criminal Liability Directors could go to prison for their actions, inaction or ignorance.
D&O Insurance cannot cover any criminal penalties as that would go against public policy. Instead it can cover any costs of defending a claim up until the point that guilt becomes established.
The best defence can be invaluable, but also very costly, consider Directors & Officers Insurance to completely remove this potentially devastating cost.

5. The SME Set-up
The SME set-up is fast, flexible and energetic but often with little risk management infrastructure (in house legal, risk managers or compliance managers) and few formal control processes. Sooner or later, some businesses may make expensive and time-consuming mistakes.
D&O insurance covers the individual director's defence costs and employment tribunal costs as well as the associated awards. Employment Tribunals are formal legal hearings and can be expensive and last for months.

6. Family Companies
Family run businesses, which make up a large proportion of UK businesses, carry with them exposures for the individuals concerned. Often owners may assume that D&O insurance is necessary only for large public traded companies and large businesses however this is not the case.
Individual directors and officers of family owned businesses may be subject to the same claims faced by large businesses, whether that be; disgruntled shareholders, customers, competitors, government regulators or employees.

7. Partnerships
Partnerships can be particularly vulnerable to employment-related claims. Whilst they are not governed by Companies Act legislation they are still subject to the raft of employment legislation and scrutiny by the Equality and Human Rights Commission.
At NC Insurance, we have access to specific insurance packages for the management liabilities of partners at their work place, and on the board of other companies. Get in touch today to find out how we can help.

8. Unfounded, Mischievous and Scurrilous Allegations
Directors can face allegations, unfounded or otherwise, which they will be forced to defend. As previously mentioned, even unfounded allegations can be extremely expensive, time-consuming and stressful for you and your organisation.
In this situation, a comprehensive D&O policy that is built for your organisation can be a huge relief.

9. Past, Present and Future Actions can follow directors from job to job.
Somewhat surprisingly Directors & Officers can be liable for actions that occured at previous jobs or in the past. This looming threat can be extremely stressful on both the director and their family.
Retirement offers no escape, nor does death as directors estates can also be pursued. Fortunately a D&O policy is available to cover past directors liability, giving you peace of mind that your assets, people & ability to trade are protected.

10. Inadequate Cover? Legal Expenses vs D&O insurance
Legal Expenses policy limits tend to be in the order of £50,000 to £100,000, which can be inadequate for larger organisations. In addition Legal Expenses insurance often only responds when an insured has good prospects of success.
It's precisely because directors might well lose a claim brought against them that D&O insurance is so essential (to fund defence costs or settlements). If you are faced with a career and lifestyle-changing crisis you may not want to rely on a legal expenses policy that could only offer cover if they are likely to win…

Directors & Officers Insurance – NC Insurance
To find out why NC Insurance is the home of professional risks or to request a free review of your insurance needs simply request a quote or call us now on 0191 482 1219
Can't get enough? Check out another post:
Stay in touch!
To keep track of the latest news, updates and tips from NC Insurance, follow us on Facebook, Twitter &LinkedIn.