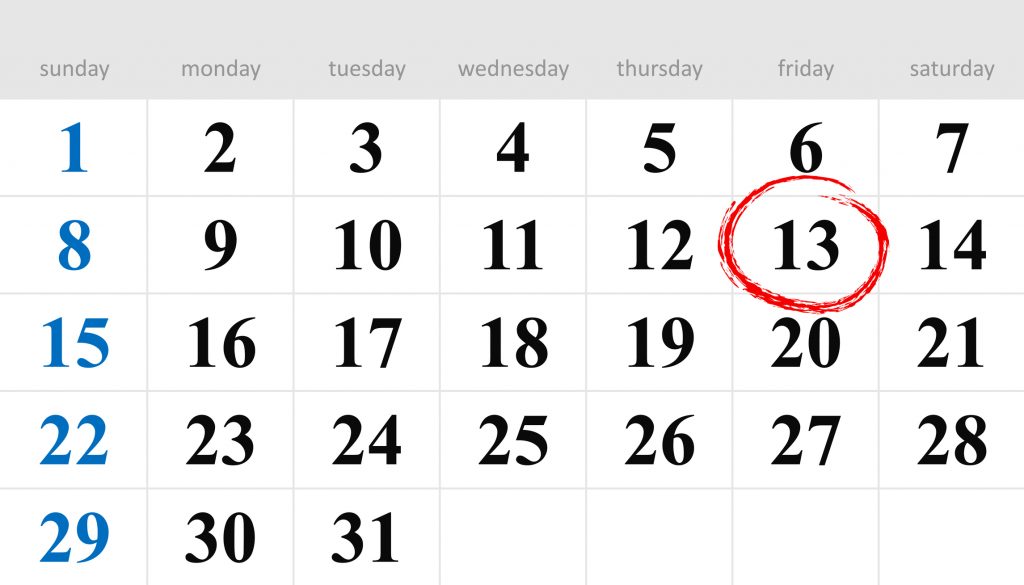 Friday the 13th Insurance News!
One of our key insurance partners, Aviva, has conducted an analysis of 10 years of claims data and it seems the age old superstition about bad luck occurring on Friday the 13th does in fact ring true. In fact, the claims data reveals that motor collision claims increase by an average of 13% on Friday 13th, compared to other days in the same month*.
This unlucky day spookily sees more bumps and shunts than normal no matter what time of year Friday 13th falls on – be it a cold winter, rainy spring or sunny summer. And although around two-thirds of people (63%) admit to holding some superstitious beliefs, just one quarter of us (26%) believe that Friday 13th is an unlucky day, according to research from the insurer**.
Half of us (50%) admit to using the phrase 'touch wood' to prevent bad things from happening, while two-fifths (43%) avoid walking under ladders and more than one in three (36%) avoid opening an umbrella indoors.
The top five superstitions that people believe in are:
50% use the phrase "touch wood" in the hope that something bad won't happen.
43% avoid walking under ladders.
36% avoid opening an umbrella indoors.
30% will not place a pair of new shoes on a table.
26% believe Friday the 13th is an unlucky day.
When it comes to drivers, almost one in ten (9%) said that that they keep a lucky charm in their car and 5% said they believe getting bird mess on their car is a good omen.
Mark Burdett, Sales and Marketing Director of Gateshead based insurance broker, NC Insurance commented, "I certainly wouldn't class myself as a superstitious person and but these results do make interesting reading. I know for many people, Friday is actually their favourite day of the working week so it's a shame it carries an unlucky tag whenever there's a Friday the 13th. All I would say is, if you really believe it's going to be a bad day, please take extra care."
*Aviva claims data 2004 – 2013
** Aviva commissioned research with OnePoll among 1,000 GB adults online between 29 May and 2 June 2014.
NC Insurance is one of the UK's leading independent insurance brokers and provide specialist advice and cover for all sectors including charity insurance, CIC Insurance, motor trade insurance