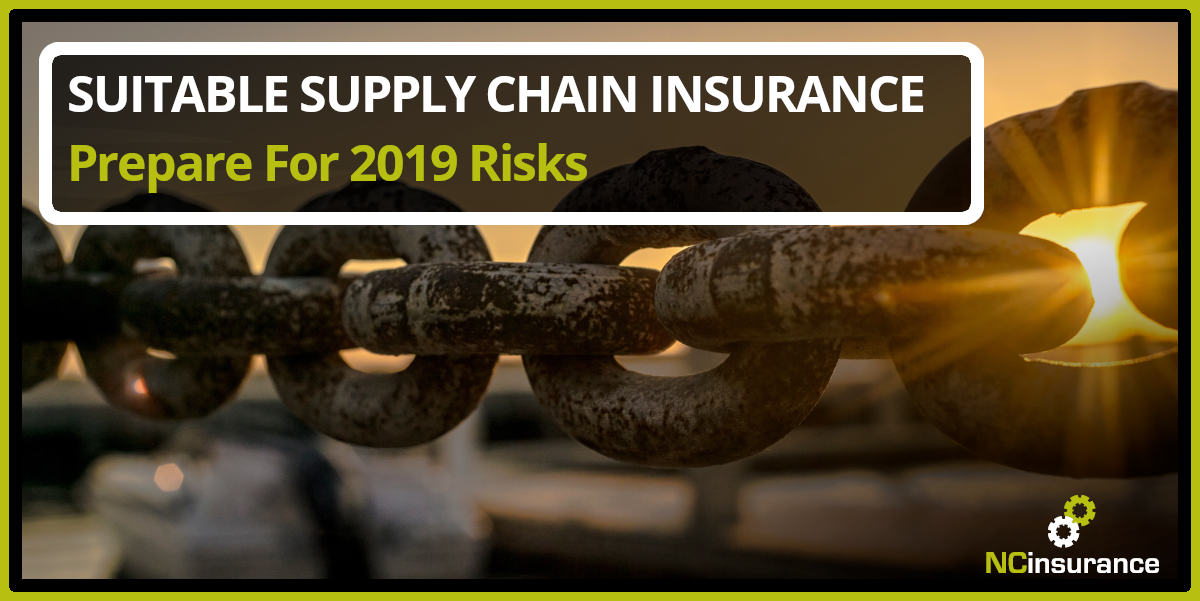 Do You Have Suitable Supply Chain Insurance For 2019 Risks
Supply chain insurance is often used to cover against instances of supply chain risk, worrying however, many organisations are lacking the appropriate and suitable cover to deal with the greatest common supply chain issues of 2019. We go into more detail about the importance of cover and the greatest risk factors currently present.
While many organisations combat the risk of underinsurance by purchasing robust cover to protect against disasters that could take place within their own establishment (eg a fire or flood), underinsurance is a risk that runs beyond your company's walls—your supply chain needs cover too.


Indeed, it's common for various organisations—such as manufacturing or transport businesses—to have a long list of suppliers. And while you might think a supply chain concern is automatically covered in your business interruption policy, think again. Without robust insurance, all it takes is a single supplier's setback to collapse the remainder of your chain and cause serious financial downfall. Especially in the age of Brexit, this possibility is as acute as ever.
Consider the following guidance to ensure your organisation possesses the appropriate cover to protect against supply chain risks and challenges:
Reduce your Supply Chain Risk
Name Every Supplier
Many organisations make the mistake of only naming tier-one suppliers in their business interruption policy, providing no insurance protection in the event of a catastrophe that occurs further down the chain. Be sure to name your entire supply chain within your policy to avoid any underinsurance issues.


Include Non-physical Damages
Although business interruption insurance typically offers cover for physical damages—such as property destroyed by a natural disaster—it's crucial to ensure your policy provides protection for non-physical damages throughout your supply chain as well. For example, while a supplier suffering from a major cyber-attack might not cause physical damages, it could still significantly disrupt business operations.
Don't Forget About Delivery Disasters
Another example of non-physical damage that could still wreak havoc within your organisation is supplier delivery problems. Make sure your policy extends to common supply chain disruptions such as loss of goods in transit, or storage and delivery delays.


Update Your Policy
As your organisation's supply chain evolves, so does your risk. With this in mind, failure to update your policy as these supply chain changes occur could result in inadequate cover in the event of a claim. For instance, if your establishment is stockpiling to prepare for Brexit, it's vital that you inform your broker to increase your sums insured.
Or get in touch with an expert insurance broker at NC Insurance and we'll recommend the appropriate limits for you.



Revealed: The Top 5 Supply Chain Risks for 2019


Supply chain issues? Let us know how we can help!
At the end of the day, you need robust insurance cover to keep you, your business and your staff protected. We've helped a huge range of businesses by providing specialist policy wordings & industry-specific cover for over three quarters of a century.
Find out how we can help you mitigate supply chain risk, call us on 0191 482 1219 or visit our website to find out more about what we do for our clients.
Can't get enough? Check out another post:
Stay in touch!
To keep track of the latest news, updates and tips from NC Insurance, follow us on Facebook, Twitter & LinkedIn.