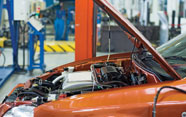 The UK Motor Trade & Brexit – What impact will it have?
How Will Brexit Affect Motor Traders?
On 23rd June, Britain chose to leave the EU in an historic vote, causing shockwaves throughout world markets. While Britain will remain part of the EU for at least another two years, there will undoubtedly be a period of instability—leaving the future of UK motor traders uncertain. In response, the Society of Motor Manufacturers and Traders stated that the UK government will need to safeguard automotive interests by 'securing tariff-free access to European and other global markets [and] ensuring we can recruit talent from the EU.' However, amidst the undetermined impact of Brexit, there are some outcomes relevant to motor traders that have already made themselves clear:
A rise in fuel costs: While it is still unclear how much the price of petrol and diesel could fluctuate due to the cost of importing fuel into Britain, the estimates are not reassuring. With the value of the pound recovering from hitting its lowest point since 1985 and the price of oil expected to rise, UK drivers could see an increase of up to 5 per cent in the cost of fuel, according to RAC. Regardless of how much the cost of fuel rises, all UK drivers will feel the financial impact. However, while RAC predicts that the cost of fuel will stabilise fairly quickly, it is unclear how long this process will take and how much more UK drivers will be paying at the pump.
A rise in the cost of motor vehicles and parts: The ability to export British-made vehicles has been critical to the success and health of the industry. Last year alone, 57 per cent of the British-manufactured vehicles were exported to Europe. Yet, when Britain begins to separate from the EU, the cost to export and import goods will be greatly impacted. The negotiations for a trade agreement may take months or even years, according to the Automobile Association. Until an agreement can be made, it will have a profound effect on the industry—it may even become too expensive for garages to work on non-British vehicles.
While the above effects of Brexit are still only speculation, you should explore all possibilities to prepare for the worst. Turn to the motor trade insurance professionals at NC Insurance for more guidance on preparing for legislative changes.