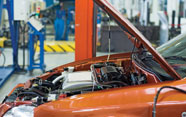 Motor Trade 2017 – Review of the Year
With our 2018 Forecast for Motor Traders coming in the next week, we felt it was worthwhile reviewing last years' forecast to see how accurate they were.
Used car market: 80% of dealers said they expected used car sales in 2017 to remain pretty steady and whilst sales fell in Q3, this proved to be pretty accurate with year to date sales at the end of Q3 being up by 0.1% = AN ACCURATE PREDICTION.
Weakened new car market: We predicted a fall in sales although the dramatic fall in new diesel car sales had a much larger than anticipated impact on the new car market with a fall of some 12.2% year on year at the end of October = AN ACCURATE PREDICTION BUT ONE WE'D HAVE MUCH RATHER GOT WRONG!
Economic uncertainty: With Brexit, Trump and a general feeling of uncertainty in 2017, this certainly hasn't helped the UK automotive industry = AN ACCURATE PREDICTION BUT AGAIN, LET'S HOPE FOR SOMETHING FAR MORE POSITIVE IN 2018.
Greater emphasis on establishing a robust digital presence: The automotive industry is no different to the rest of the world when it comes to customers demanding immediacy when it comes to enquiries. Those vehicle dealers who could do that had a competitive advantage so the message from 2017 was, "If you snooze, you lose" = AN ACCURATE PREDICTION.
Enhanced insurance benefits: The good news for our motor trade insurance customers is that 2017 proved to be the year when we'd negotiated exclusive benefits with multiple insurance companies and this resulted in them benefiting from:
Free access to a health & safety and risk management portal.
No claim rebates – For qualifying, claim free clients, they not only received a highly competitive premium when they took out a policy with us but then once they renewed it, they received a refund of up to 15% of the premium.
Protected no-claim discounts. Even if NC Insurance clients did suffer a loss and need to claim, they didn't necessarily lose nor have their NCD reduced.
Enhanced motor trade insurance benefits was most definitely an accurate prediction in 2017 and we continue to work hard to make sure our motor trade clients continue to receive cover & service advantages at hard to beat premiums.
For a free review of your combined motor trade insurance, request a quote or call us on 0800 046 1446.